March 2012 Issue
IHOP Belshaw Gun Engraved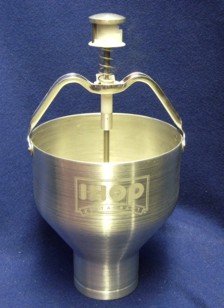 IHOP gave us a call from their corporate headquarters in California. They wanted a Belshaw Gun engraved with the IHOP corporate logo. I said sure we engrave guns. Well the package arrived for engraving. It sure didn't look like a gun. Actually a Belshaw Gun is what you put pan cake batter in to make the perfect sized pan cake. They used the Bershaw Gun in a promotion for National Pancake day which was February 28, 2012. It's nice to know Engraving Connection was a part of their national promotion. Maybe you have something you use in your business that can be turned into an award or used in a promotion. We are ready to make it a reality with engraving.
Unique Corporate Retirement Gift
It's hard brainstorming on what to give a retiree upon retirement. Don was moving north in Michigan where their is none thing but golf courses and bars. But Don doesn't golf - he loves pool. This gave inspiration for the perfect retirement gift - a new pool stick and case. But Eric Anderson wanted to make this new pool stick and case extra special. Eric found a casket pool case and wanted a plate engraved and attached to the case in the shape of a tombstone. We found some plastic that had a granite finish and the perfect retirement gift for a pool shark was made. Don, may it be years and years to come before you Rest In Peace!
Think about the personality of the person you are giving an award or corporate gift to. Does it fit the personality of the recipiant? If it does you will hit a home run.
To the left is Joe doing the final assembly on the pool case.

Check out for many unique things we can engrave for a corporate gift.
Terry (my wife) and the Woodchuck
March is here and the snow is melting in our back yard. The new cement that was poured just before winter started is glistening in the Spring Sunlight. Terry had the cement molded to look like slate. I wonder what the Woodchuck will think when she comes back to her summer home? Well, Terry has cemented up every possible entrance under the porch and I'm waiting for her commands to replace the screening on the pouch. See previous update - scroll down to September 2011 issue.
Award Special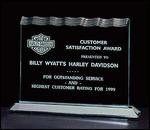 We had an order canceled for 15 Tidal Wave Series Acrylic awards. They have a jade color that makes them look like jade glass. Overall size: 7 1/2" x 5 1/4". Engraving Area: 6" x 3 3/4". Price: $57.00 each. The Special Offer FREE Engraving. Remember only 15 to sell at this price. Think ahead for your awards needs and save a bundle on engraving charges.
Special Offer $57.00 with FREE Engraving Order
(Only 15 to sell at this price)
September 2011 issue
Bowling Ball Award?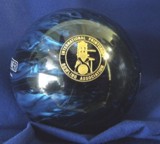 For the last two years we have engraved Bowling Bowls for International Printcraft Bowling Association. We have a limited area for engraving, but add the Association's logo and then gold fill the engraving. It was a challenge to line up the bowling ball for engraving. April has done a good job as you can see from the photo. Maybe you have something unusual you would like turned into an award. Give us a call. 734-459-3180
The Big Problem is what to say on an Award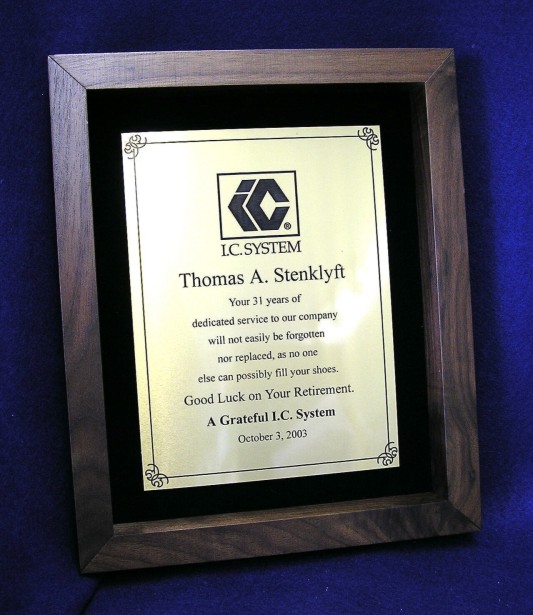 It's hard brainstorming on what to say on an award. To say just the right message to fit the occasion. Is there a solution? I've developed a web site totally devoted to what to say on an award. From retirement, sales, leadership, the list goes on and on. The site also has quotes that would work with awards. Now you have the ability to be a pro laying out a plaque with a little help from this special web site.
Terry (my wife) & the Woodchuck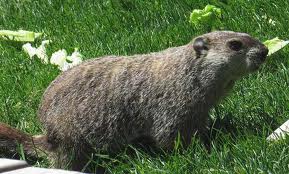 In life there are some aggravations, for Terry, it is a woodchuck that has made residence under our screened-in porch for the last couple of years. It is amazing how the woodchuck keeps winning. We have used a live trap several times. The first time we caught the beast, we set it free a couple blocks from our house only for it to reappear a week or so latter. The next time we caught it, we put it and the cage in the back of the car and drove for miles finding the perfect wooded area to release the animal. That was last summer. This summer guess who reappeared, not only the wood chuck, but baby wood chucks, a possum and a raccoon. Terry thinks the wood chuck is renting out space under the porch. We caught the possum and sent it a long ways away, but the wood chuck was now wise to the live trap. All types of bait just didn't work any more.
Terry found old bricks to put around the screen in porch, these were just toys to be pushed around by the woodchuck. Larger bricks were purchased to no avail. Rags with ammonia were used, moth balls - nothing worked.
About a month ago, Terry spotted the woodchuck standing on it hind legs just out from underneath the porch sunning it self. Terry gave it the evil eye. The woodchuck just stared back. Terry called me over to the stare down. And eventually, the rodent went under the porch.
This was the final straw; the porch now has two feet of concrete poured all the way around with bricks cemented on top. The Wood Chuck won some battles, but Terry won the war! I now have a happy wife!
Engraving Connection is honored at the Penn Theater auditorium dedication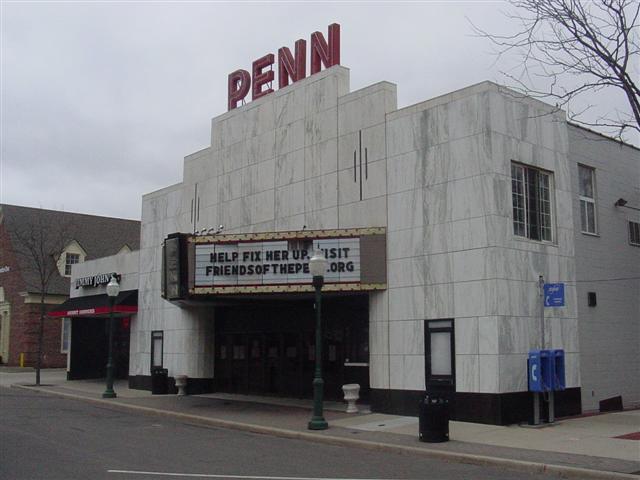 Plymouth's local movie theater came to us to help with the renovation of this classic movie house. For donations, they have engraving plates that go on the new seats of the theater. We went to work on the job engraving hundreds of plates. Wednesday, August 3rd, I attended the remodeling dedication and watched "Mr. Blandings Builds his Dream House" a 1948 classic movie with Cary Grant. It was a fun filled evening and another $40,000 was raised for a new digital projector. If you get a chance, see a movie at the Penn and catch dinner at one of our fine restaurants