Golf Awards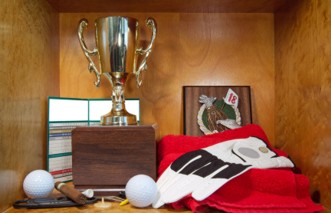 Yes, the hole-in-one needs to be preserved forever. What better way than an award to remember the event. The ball and score card can be mounted unto a plaque.
Golf tournaments are another natural for awards: Cloest to the Pin - First Place Team - Longest Driver - etc. If you have a golf event coming up, we can take care of your awards needs.
Golf Award Ideas

Hole-In-One
Men's Longest Drive
Men's Closest to the Pin
Women's Longest Drive
Women's Closet to the Pin
Winners 1st Place
Winners 2nd Place
Quotes for Golf Awards
"Success in golf depends less on strength of body than upon strength of mind and character." Arnold Palmer
"Golf is deceptively simple and endlessly complicated." Arnold Palmer
"Golf is deceptively simple and endlessly complicated." Arnold Palmer
"Always make a total effort, even when the odds are against you." Arnold Palmer
"It took me seventeen years to get 3,000 hits in baseball. I did it in one afternoon on the golf course." Hank Aaron
"Golf is a game in which you yell "fore," shoot six, and write down five." Paul Harvey
"Golf is a good walk spoiled" Mark Twain,
"I have a tip that can take five strokes off anyone's golf game: it's called an eraser." Arnold Palmer
"Golf is a game that is played on a five-inch course - the distance between your ears." Bobby Jones
"Forget your opponents; always play against par." Sam Snead
"They say golf is like life, but don't believe them. Golf is more complicated than that." Gardner Dickinson
"What other people may find in poetry or art museums, I find in the flight of a good drive." Arnold Palmer
"When I die, bury me on the golf course so my husband will visit." Author Unknown
"Some of us worship in churches, some in synagogues, some on golf courses." Adlai Stevenson

These are awards from the R.S. Owens Company. They make the awards for the Oscars and the Emmys. If your are looking for the very best, this is the place to shop!
Here is a good line of awards in crystal, acrylic and traditional plaques. Great secection at a reasonable price.
Here is a collection optical and regular crystal awards and gifts at a reasonable price.
This selection gives you the look of crystal at acrylic award prices. Great selection that will fit any budget.
These are all enviornmently friendly awards using recycled products and re-newable products for the enviornmently sensitive recipient.