Music Awards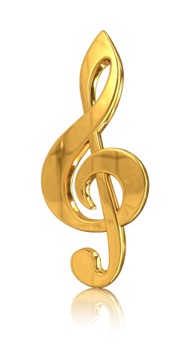 Individual achievement in music is important. I've competed in many music competitions over the years. There is nothing like winning a competition. Here is a lot of help to design and make the perfect award for your music competition.
Young Musician Awards
Music Achievement
Choral Achievement
Most Valuable Musician Award
Music Award Wording

Your well honed music skills such as yours are not commonplace.
Your music is like a fine wine to the senses.
You make the spirit of the music come alive.
You took the musical standards and stretched them.
Your music has lifted us to new heights.
Your clear, concise and ever-present musical style will be with us forever.
your relentlass passion for music is a blessing to us all.
Quotes on Music Awards
I can't listen to that much Wagner, I start getting the urge to conquer Pland.
Woody Allen
If a thing isn't worth saying, you sign it.
Pierre Beaumarchais
Music with dinner is an insult both to the cook and the violinist.
G.K. Chesterton
Music has charms to soothe the savage beast. To soften rocks, or bend a knotted oak.
William Congreve
The whole problem can be stated quite simply by asking, 'Is there a meaning to music? My answer would be, Yes. And can you state in so many words what the meaning is? My answer to that would be no.
Aaron Copland
Music is the wine that fills the cup of silence.
Robert Fripp
Music is the only language in which you cannot say a mean or sarcastic thing.
John Erskine
I'm not interested in having an orchestra sound like itself. I want it to sound like the composer.
Leonard Bernstein
This will be our reply to violence: to make music more intensely, more beautifully, more devotedly than ever before.
Leonard Bernstein
It's easy to play any musical instrument: all you have to do is touch the right key at the right time and the instrument will play itself.
Johannes Sebastian Bach
My music had roots which I'd dug up from my own childhood, musical roots buried in the darkest soil.
Ray Charles
Some are blessed with musical ability, others with good looks. Myself, I was blessed with modesty.
Roger Moore
I really just followed my musical instincts every step of my life.
Boz Scaggs

These are awards from the R.S. Owens Company. They make the awards for the Oscars and the Emmys. If your are looking for the very best, this is the place to shop!
Here is a good line of awards in crystal, acrylic and traditional plaques. Great secection at a reasonable price.
Here is a collection optical and regular crystal awards and gifts at a reasonable price.
This selection gives you the look of crystal at acrylic award prices. Great selection that will fit any budget.
These are all enviornmently friendly awards using recycled products and re-newable products for the enviornmently sensitive recipient.